What is the role of the arts and the cultural sector in the climate crisis? This was the central question for a talk by Jonas Staal, at the 2022 We Are Warming Up Festival in Amsterdam. Or so I thought when I invited a new network connection to meet there. Instead of the state of the arts and sustainability, his talk focused on the state of climate justice. On the war against the possibilities for life on earth.
Resonation with the artist
Here are some key terms from his talk that really resonated with me:
Climate loneliness: so many people are feeling alone and lonely in solving a global crisis.
Fossil fuels: remains of plants and animals from the past, that we burn to accelerate our current lives, but which put the brakes on the future.
Ecofascism: some see humans are the virus, with the ever-increasing spread of humans as a problem – what if extreme right-wing parties embrace climate change – only to introduce an extra dimension of selecting who has the 'right to survive' and who does not.
Intergenerational climate justice: we need equality between past, current and future generations. We can no longer hide climate crimes in time.
Power of imagination: artists may not have any formal executive power, but they have the power of imagination to help people see the future we want, the potential of a new more sustainable way to live
Comrades: there are human and non-human comrades on our planet, all connected as earth workers, all connected by fate. We need to realize we are interdependent, rather than framing human comrades as the protectors of the non-human ones.
Fossil fuels: remains of plants and animals from the past, that we burn to accelerate our current lives, but which put the brakes on the future.

Jonas Staal
Rethinking my role
And while the above felt very aligned with my inner voice and compass, being present at his talk was far from comforting. At the start of his talk, I could feel resistance and discomfort rising in me. His rant against companies and corporate leaders was not what I had expected to hear. And quite opposed to my very fundamental belief that companies hold part of the solutions towards a more sustainable future.
Yes, many companies contributed to the climate crisis in which we find ourselves. The same can be said for our governments and many citizens (especially in the western world). We can point fingers and bash them, but we're not going to manage change without them. We simply cannot count on emerging companies and current governments to get us out of this fast enough. And we certainly cannot dump this on future generations as new citizens. So we're going to need to drive change in the business world.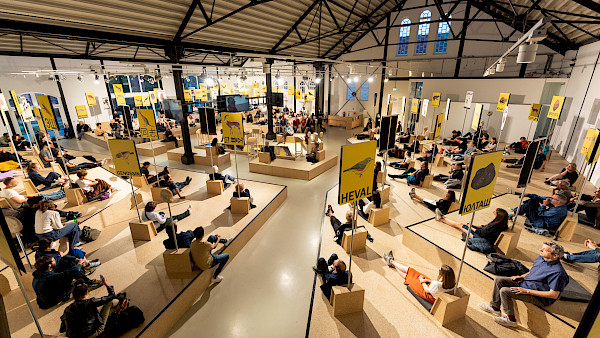 Yet no resignation
So yes, his talk shook me. But by no means did it leave me less determined to support companies in setting ambitious goals, developing strategies towards those goals, and driving the behavior change needed within the company to make those ambitions a reality. And of course, companies need to do this closely attuned to their key stakeholders – within and outside of the organization.
My question about the role of the arts in driving change remains. I'd love to make better use of the power of imagination that artists can bring to the boardroom table to drive ambitions and change. Please share any examples you may have for this, I'd love to see them!
This blog was written by Marjolein Baghuis and also appeared on LinkedIn. To find out more about Jonas Staal and his projects, check out his website. To read about interesting people, book reviews, and other posts about sustainability, change, and communications please subscribe to this blog in the right-hand column.